Welcome to the Chatham Grill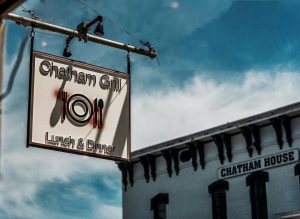 Our cozy casual restaurant is located in the heart of the village of Chatham, New York. Open seven days a week for lunch and dinner, we specialize in American cuisine with an emphasis on creative comfort food. At the Chatham Grill, we strive to satisfy the locals and the out-of-towners equally by providing friendly service in an inviting space where the food and drink are familiar. There's something for everyone, from the best burgers to amazing entrees using fresh, local ingredients.
Highlights from our diverse dinner menu include our famous meatloaf and burgers, grilled Atlantic salmon, pork chops, roast duck and lotsa pasta. For lunch, our sandwiches are outstanding and the hand-cut fries, well, it doesn't get any better. We also offer Mexican favorites such as burritos, quesadillas, and tacos. Join us at the bar for a beer or cocktail, or select something from our wine menu.
Chef and owner Leonardo Castellanos opened the Chatham Grill in February of 2016. After mastering the farmers markets with his fabulous Mexican food and opening Magdalena's in Valatie, Leo wanted to turn his focus to American cuisine. He chose Chatham because the town is vibrant and bustling, and he felt at home here.
Take a look around and make plans to visit us soon. We guarantee you won't leave hungry!